Federweisser vintage festival festivals in Rhineland-Palatinate and Germany
Fall is the time of the harvest. When the days get shorter and the trees present themselves in their most beautiful colors in Germany, the crop is cut, the onions are harvested and the grapes are gathered. Then, it is also the time when people enjoy the fruits that were given to them by nature, very often also in the course of a festival.
Especially in the winegrowing areas of Germany, like for example Ahr, Baden, Franconia, Hessian mountain road, middle Rhine River, Mosel-Saar-Ruwer Rivers, Palatinate, Rhinegau, Rhine-Hesse, Saale-Unstrut Rivers, Saxony and Wurttemberg as well as on the Rhine River and the Main River, there are numerous folk festivals, street festivals and wine festivals on the weekends during late summer and fall. According to custom, tradition and motive of the event, there are different titles for those festivities. The are called for example parish fair, street festival, wine fair, winegrowing festival, wine market, pressing festival or Federweisser festival. On the weekends, you come together in happy company on the fairground, in the wine tavern, in the wine house, in the court of a vine-growing estate, in the inn or in a pub. Many towns in the winegrowing regions of Germany have a local wine queen who can be seen on the local wine festivals.
In addition to the classic wine festivals, the Federweisser vintage festivals are also very popular in Germany. Solely in Rhineland-Palatinate, you will find Federweisser vintage festivals in the calendars of events of more than 30 towns and wine villages. Those festivals do not only attract natives, but also many tourists. Associations, skittling clubs, fire departments and so on use these freetime offers for day trips or tours with overnight stays in a hotel.
Especially recommendable are boat cruises with Swimming Federweisser vintage festival on board on the middle Rhine River which take place on a weekend in October. They are combined with a firework display of the event series "Rhine River Lights". In addition to Federweisser wine and onion tart, Rhine River wine is also offered. A DJ takes care of good atmosphere and entertainment during this Rhine River cruise.
More information and day round boat cruise ticket reservation under:
www.german-wine-festivals.com
and
www.rhine-river-lights.com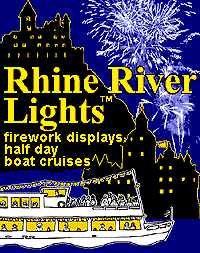 Rhine river lights ™
– all schedule dates 2022 and 2023
Saturday, August 27, 2022
Firework display round boat trip Rhine river lights ™
Wine festival summer night in Bacharach
Saturday, October 8, 2022
Firework display round boat trip Rhine river lights ™
Golden wine autumn and Swimming Federweisser vintage festival
Saturday, June 24, 2023
Firework display round boat trip Rhine river lights ™
Red wine festival in Assmannshausen
In German: Wine hiking day on the Middle Rhine River
Groups short trips to the Federweisser vintage festival
Company outing and special rates for bus groups from 15 people
Federweisser vintage festivals in Germany Rhineland-Palatinate