Rhine River cruises, German wine festivals with firework displays
Discover the romantic Middle Rhine River in Germany from a completely new point of view with half day boat cruises.
Rhine river lights departure towns on the left Rhine river side: Koblenz / Coblence, Rhens, Boppard, Bad Salzig, St. Goar, Oberwesel, Bacharach, Trechtingshausen, Bingen
Rhine river lights departure towns on the right Rhine river side: Lahnstein, Braubach, Kamp-Bornhofen, Kestert, St. Goarshausen, Kaub, Lorch, Assmannshausen, Rudesheim
In the middle of the romantic Middle Rhine River valley which was declared World Heritage Site in 2002, natives and tourists will celebrate the "Golden wine autumn" on the Saturdays in October.
With Federweisser (new wine), red wine and white wine from the Middle Rhine River, nonalcoholic drinks and an abundant food offer for the well-being is taken care in the best way.
During the time of the "Golden wine autumn", there will land round cruise boats from the area around Bingen, Rudesheim, Assmannshausen and Lorch, from the area around Coblence, Lahnstein, Rhens and Braubach as well as from the area around Boppard, Kamp-Bornhofen, St. Goar, St. Goarshausen and Oberwesel in a wine town.
During the round boat cruise on the Rhine River, the boat passengers celebrate on the first October date the Swimming October festival and on the second October date the Federweisser vintage festival with Federweisser (new wine) and onion tarts.
Only Saturday, October 17, 2015:

In Bacharach for the guests of the second Rhine River Lights event there is the possibility to visit the Mittelrheinhalle (Middle Rhine Hall). In the hall "Bacchus" from Bacharach welcomes the guests with maudlin words. There is live music and dance with a sole entertainer. Because the number of seats in the hall is limited, an advanced order of the meals is recommended, connected wit a seat reservation.
At the wine booth in front of the Mittelrheinhalle (Middle Rhine Hall) – with seat reservation also in the Mittelrheinhalle (Middle Rhine Hall) – the vouchers for 0,2 ltr Federweisser (new fermenting wine) and 1 wine glass as souvenir can be encashed.
Use your stay in the wine town for a cozy walk through the town. The wine taverns, inns and restaurants of the town center invite you to take a break.
The highlight of the event is a large firework display of the event series "Rhine River Lights", which will illuminate the nightly sky over the Rhine River in the most beautiful and different colors.
The firework will be burned down at around 9:45 p.m. between Lorelei Rock and Rhinegau by Pyrotechnics Stockmann.
The passengers will have the possibility to watch the firework display from the open air deck of their boats virtually from the "front row", before the boats with DJ music and dancing will head back to the places of departure.
More information and day round boat cruise ticket reservation under:
www.german-wine-festivals.com and www.rhine-river-lights.com
© 1998-2015 www.rhine-river-lights.com Without guarantee. All rights reserved. Subject to change.
Status: Friday, 14. August 2015 - Current URL: http://german-wine-festivals.com/index.html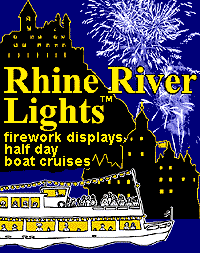 Rhine river lights ™
– all schedule dates 2015 and 2016
Saturday, August 22, 2015
2 firework displays round boat trip Rhine river lights ™
Wine festival summer night in Bacharach
Saturday, September 5, 2015
Firework display round boat trip Rhine river lights ™
Rhine River meadow festival in Bacharach
Saturday, October 10, 2015
Firework display round boat trip Rhine river lights ™
Golden wine autumn and Swimming October festival
Saturday, October 17, 2015
Firework display round boat trip Rhine river lights ™
Golden wine autumn and Swimming Federweisser vintage festival
Saturday, June 18, 2016
Firework display round boat trip Rhine river lights ™
Red wine festival in Assmannshausen
Saturday, August 6, 2016
Firework display round boat trip Rhine river lights ™
Red wine festival in Bacharach
Groups short trips to the Federweisser vintage festival
Special rates for groups from 10 people
Company outing and special rates for bus groups from 15 people
Federweisser vintage festivals in Germany Rhineland-Palatinate